SICC Coatings GmbH from Berlin is a leading specialist supplier of climate-active coatings with the longest experience in all climatic zones and areas of application. The functional coatings are based on reflective membrane technology and offer practical solutions to problems: Mould on walls, algae growth, brittle and dirty facades are effectively combated or prevented. The entry of moisture through driving rain is reduced or avoided. The heating of roofs, interiors, containers or tanks is significantly reduced.. For the energy-saving effect of the technology, SICC Coatings was awarded the "German Innovation Award" in 2018 and the "Energy Efficiency Award" in Singapore, among others. SICC Coatings operates in accordance with the quality and environmental management standards of DIN EN ISO 9001:2015 and 14001:2015.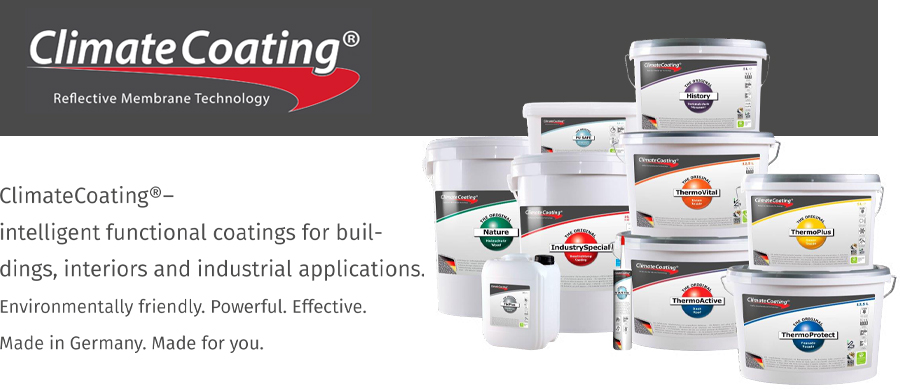 2003 Foundation of the company as SICC GmbH
Product development and production in Germany
14 employees at the headquarters in Berlin
worldwide representation by partner companies
Target groups: Architects, planners, commercial builders, housing construction companies, industrial companies, processing companies, specialist dealers.
2018 Name change to SICC Coatings GmbH
Contact
We are pleased that you want to get in touch with us!
Please fill out all fields of the contact form and we will take care of your request as soon as possible.
Wackenbergstraße 78-82, DE-13156 Berlin
info@sicc.de
+49 (0) 30 500 196-0
+49 (0) 30 500 196-20

Note: By submitting your requests via the send button, you agree that your details from the contact form may be collected and processed in order to answer your request. The data will be deleted after processing your request. You can revoke your consent at any time by e-mail to info@sicc.de. Detailed information on handling user data can be found in our privacy policy.